Dr. rer. nat. Dipl.-Inform. Michael Kirchhof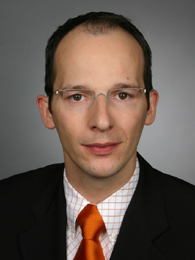 Current Affiliation
Building E1
Room 4220
Ahornstraße 55
52074 Aachen, Germany
Phone: +49 241 80 21317
Fax:+49 241 80 22218
Email:
kirchhof@i3.informatik.rwth-aachen.de
CV at a glance
| | |
| --- | --- |
| 1973 | Born in Neuss, Germany |
| 1994 | General Qualification for University Entrance (Allgemeine Hochschulreife "Abitur") at Quirinus-Gymnasium, Neuss, Germany |
| 1994 – 2001 | Study of Computer Science at the Aachen University of Technology (RWTH Aachen), Germany |
| May 2001 | Graduation as "Diplom-Informatiker" with focus on Software Engineeriung and Operations Research |
| May 2001 – September 2005 | Research Assistant at Department of Computer Science 3 (Software Engineering) |
| July 2005 | Dissertation Thesis finished |
| October 2005 | Doctoral Examination passed |
| now | mm1 Consulting & Management GmbH, Stuttgart |
Research
My research interests are in the field of software engineering and the application domain of ehome systems. Details on this field at the software engineering group, which has been initiated by me, can be found here:
My research activities are framed by several industry cooperations. The cooperation partners are
For academic exchange, I am a member of the graduate school GRK643 "Software for Mobile Communication Systems"
(Link)
.
Job Experience
Beside my research work, I ran a small company which developed specialized management software especially for hospitals.
My work at the department of computer science 3 (software engineering) covered:
Teaching
My teaching activities include lectures, lab courses, and seminars for students at different stages in their studies of computer science, electrical engineering, and communication science:
In addition, I participated in the information workshop for scholars 2004 (Schülerinformationstag) and orientation lectures for students at the beginning of the semester.
Supervised Diploma Theses and Master Theses
Publications
Armac, Ibrahim ; Kirchhof, Michael ; Manolescu, Liviana: Modeling and Analysis of Functionality in eHome Systems: Dynamic Rule-based Conict Detection. In: 13th IEEE International Conference on the Engineering of Computer Based Systems (ECBS 2006), IEEE Computer Society, 2006. – to appear
Becker, Simon ; Kirchhof, Michael ; Nagl, Manfred ; Schleicher, Ansgar: EAI, Web und eBusiness: Echte Anwendungsintegration macht Aufwand! In: Jähnichen, Stefan (Hrsg.): Neue Webtechnologien & eBusiness Integration, Online Verlag, 2002 (Congress VI). – ISBN 3–89077–236–6, S. C630.01–C630.27
Behle, Anita ; Kirchhof, Michael ; Nagl, Manfred ; Welter, Ralf: Retrieval of Software Components using a Distributed Web System. In: Journal of Network and Computer Applications (JNCA) 25 (2002), Dezember, Nr. 3, S. 197–222. http://dx.doi.org/10.1006/jnca.2002.0134. – DOI 10.1006/jnca.2002.0134. – ISSN 1084–8045
Fuß, Christian ; Gatzemeier, Felix ; Kirchhof, Michael ; Meyer, Oliver: Inferring Structure from Typography. In: King, Peter (Hrsg.) ; Munson, Ethan V. (Hrsg.): Proceedings of 8th International Conference on Digital Documents and Electronic Publishing Conference 2000 (DDEP2000) and 5th International Workshop on the Principles of Digital Document Processing (PODDP 2000), Springer, 2004 (LNCS 2023). – ISBN 3– 540–21070–9, S. 44–55
Kirchhof, Michael: Ableitung von Textstrukturen aus typographischen Auszeichnungen, Rheinisch-Westfälische Technische Hochschule Aachen, Diplomarbeit, Mai 2001
Kirchhof, Michael: Distributed and Heterogeneous eHome Systems in Volatile Environments. In: Weerawarana, Sanjiva (Hrsg.): Proceedings of Forum at 2nd International Conference on Service Oriented Computing (ICSOC 2004), IBM, 2004 (IBM Research Report RA221 W0411-084), S. 123–131. – Refereed Papers
Kirchhof, Michael: Integrierte Low-Cost eHome-Systeme – Prozesse und Infrastrukturen. Shaker, 2005. – 346 S. – ISBN 3–8322–4776–9
Kirchhof, Michael ; Kraft, Bodo: UML-based Modeling of Architectural Knowledge and Design. In: Dosch, Walter (Hrsg.) ; Debnath, Narayan (Hrsg.): Proceedings of the 13th International Conference on Intelligent and Adaptive Systems and Software Engineering (IASSE 2004), ISCA, 2004, S. 245–250
Kirchhof, Michael ; Linz, Sebastian: Component-based Development of Web-enabled eHome Services. In: Baresi, Luciano (Hrsg.) ; Dustdar, Schahram (Hrsg.) ; Gall, Harald (Hrsg.) ; Matera, Maristella (Hrsg.): Proceedings of Ubiquitous Mobile Information and Collaboration Systems Workshop 2004 (UMICS 2004), Springer, 2004 (LNCS 3272). – ISBN 3–540–24100–0, S. 181–196. – Revised Selected Papers
Kirchhof, Michael ; Linz, Sebastian: Component-based Development of Web-enabled eHome Services. In: Personal and Ubiquitous Computing Journal 9 (2005), Nr. 5, S. 323–332. http://dx.doi.org/10.1007/s00779-004-0336-1. – DOI 10.1007/s00779–004– 0336–1. – ISSN 1617–4909
Kirchhof, Michael ; Nagl, Manfred ; Norbisrath, Ulrich: EAI heißt insbesondere Integration: Probleme und die Rolle technischer Hilfsmittel. In: Web-Services: Schlüssel für eBusiness Integration. Proceedings of Online 2003, Online Verlag, 2003 (Congress VI), S. C641.02–C641.20
Kirchhof, Michael ; Norbisrath, Ulrich: Conguration and Deployment in eHome-Systems. In: Regentova, Emma (Hrsg.): Proceedings of International Conference on Information Systems: New Generations (ISNG 2004), PHASE, 2004. – ISBN 0–9762601– 0–7, S. 23–28
Kirchhof, Michael ; Norbisrath, Ulrich ; Skrzypczyk, Christof: Towards Automatic Deployment in eHome Systems: Description Language and Tool Support. In: Meers-man, Robert (Hrsg.) ; Tari, Zahir (Hrsg.): On the Move to Meaningful Internet Systems 2004: CoopIS, DOA, and ODBASE: OTM Confederated International Conferences, Proceedings, Part I, Springer, 2004 (LNCS 3290). – ISBN 3–540–23663–5, S. 460–476
Kirchhof, Michael ; Stinauer, Philipp: Service Composition for eHome Systems: A Rule-based Approach. In: Mostéfaoui, Soraya K. (Hrsg.) ; Maamar, Zakaria (Hrsg.): Ubiquitous Computing -Proceedings of the 2nd International Workshop on Ubiquitous Computing (IWUC 2005), INSTICC Press, 2005. – ISBN 972–8865–24–4, S. 28–38
Publications in preparation
Armac, Ibrahim ; Kirchhof, Michael: Process Support in eHome Systems: Empowering Providers to Handle a Future Mass Market. In: 28th International Conference on Software Engineering (ICSE 2006), ACM (ACM SIG Proceedings). – submitted
Armac, Ibrahim ; Kirchhof, Michael ; Richterich, Claus: Collaboration in eHome Systems. In: 4th International Conference on Pervasive Computing (Pervasive 2006), Springer (LNCS). – submitted
Kirchhof, Michael ; Nagl, Manfred: Distribution of Customized eHome Solutions. In: Advanced Engineering Informatics. – in preparation
Kirchhof, Michael ; Norbisrath, Ulrich: Distributed Web-enabled eHome Systems: A Case for Software Engineering in Pervasive Computing. In: IEEE Pervasive Computing (2005). – submitted
Kirchhof, Michael ; Stinauer, Philipp: Service Composition for eHome Systems: A Rule-based Approach. In: IEEE Transactions on Software Engineering (2005). – submitted
Talks
under construction
Kirchhof, Michael: Integrierte Low-Cost eHome-Systeme -Prozesse und Infrastrukturen. – Informatik-Oberseminar, RWTH Aachen. Vortrag am 18.10.2005
Kirchhof, Michael: Integrierte Low-Cost eHome-Systeme -Prozesse und Infrastrukturen. – Software Evolution and Architecture Lab, Universität Zürich, Schweiz. Vortrag am 23.09.2005
Kirchhof, Michael: Service Composition for eHome Systems: A Rule-based Approach. – 2nd International Workshop on Ubiquitous Computing (IWUC 2005), Miami, USA. Vortrag am 22.05.2005
Kirchhof, Michael: Conguration and Deployment in eHome-Systems. – International Conference on Information Systems: New Generations (ISNG 2004), Las Vegas, USA. Vortrag am 30.11.2004
Kirchhof, Michael: Distributed and Heterogeneous eHome Systems in Volatile Environments. – Forum at 2nd International Conference on Service Oriented Computing (ICSOC 2004), New York, USA. Vortrag am 24.11.2004
Kirchhof, Michael: Integrierte eBusiness-Systeme für eHome-Anwendungen. – Arbeitsgemeinschaft Softwaretechnik. RWTH Aachen. Vortrag am 20.07.2004
Kirchhof, Michael: Component-based Development of Web-enabled eHome Services. – Ubiquitous Mobile Information and Collaboration Systems Workshop 2004 (UMICS 2004), Riga, Latvia. Vortrag am 10.06.2004
Kirchhof, Michael: Bindung gewerblicher Kunden (...)
Created by: Kirchhof last modification: Sunday 22 of October, 2006 [14:58:12 UTC] by Kirchhof